If instead of a gem, or even a flower, we should cast the gift of a loving thought into the heart of a friend, that would be giving as the angels give.
--- George MacDonald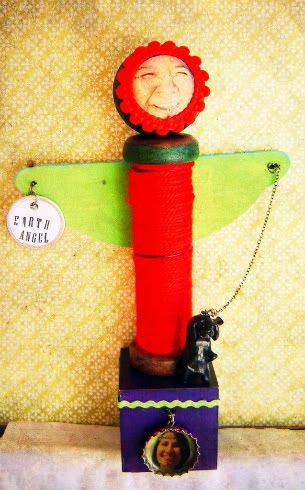 My best friend in the whole world is Esther. She recently lost her dog named Chato. He was a close companion, he loved to wear the crochet sweaters she made for him but most of all---Chato loved to ride on her lap as he stuck his head out of the car window. She had him since he was a puppy and pampered him to no end. Chato gave her so much love, loyalty and happiness that it saddened me to hear of his passing. Of course, Chato lived to a ripe old age but nevertheless, it was hard for Esther.
This is my inspiration for the small shrine I created for Chato. It is a Mexican tradition to make shrines of loved ones that have passed to keep them in your memory.
Esther, my friend, you are an earth angel to me---a friendship that I treasure and hope will last for many more years to come.
Leticia (aka Tish)